One of my favorite events every year is the March of Dimes March for Babies.   I mean, think about it – what could be more meaningful than working toward a world where every baby is born healthy?!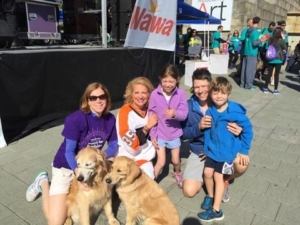 Thanks to everyone who came out! 700 runners participated in 5K and 10K Run for Babies and then 7,000 -YES, seven thousand- walkers.  That's amazing and that was just at the walk site at the Art Museum in Philly.  There were several other walk sites around the greater Philadelphia region and there are many, many more across the country.  The numbers are one thing, but it's the stories that touch your heart.  Families share their trials of babies born too soon, babies who are now healthy young children thanks to the work of the March of Dimes… like my sweet young friend Cailin, who I take a picture with every year – it's tradition.  She was a 24 weeker at 1 lb 6 ozs.  And look at her now, with her wonderful family and two dogs this year!
Want more information on what the March of Dimes does and how you can help? Visit their site today.