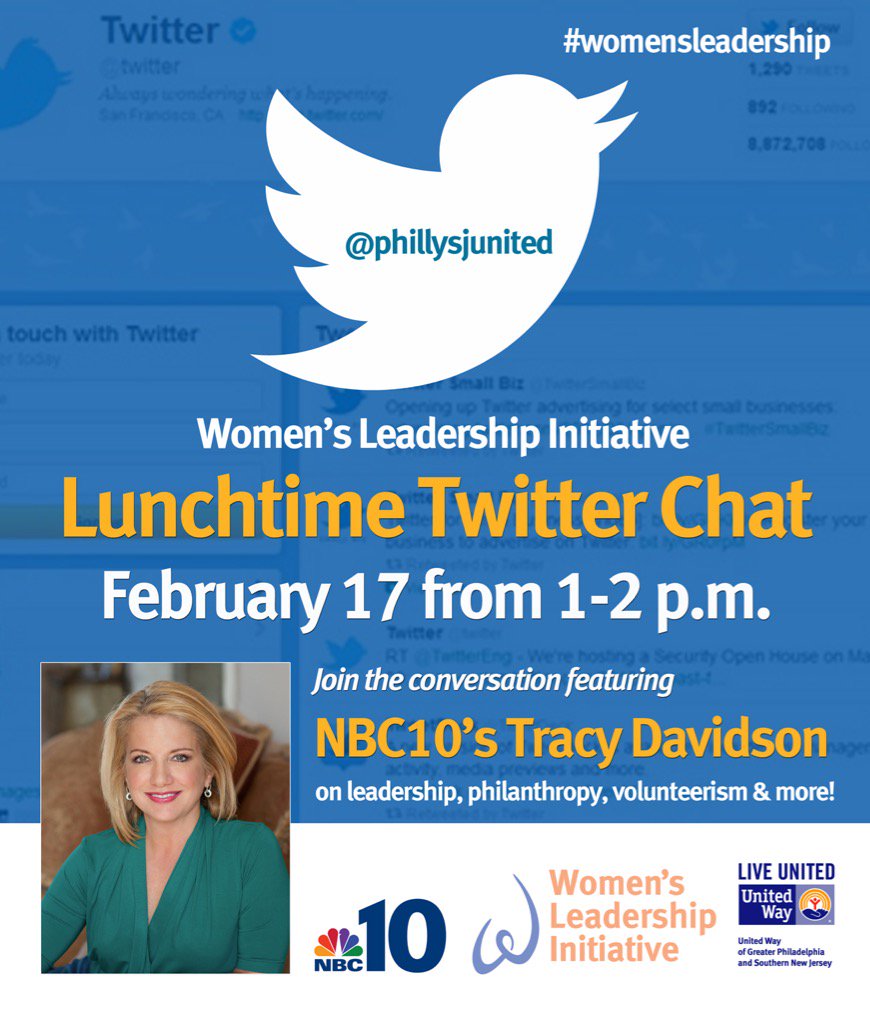 It's official and in the books… I have done my first Twitter Chat! A big thank you to United Way Greater Philadelphia/South Jersey for having me as your guest to discuss leadership, philanthropy, volunteerism and more!
For those that are not familiar a Twitter Chat is a LIVE conversation happening on Twitter that follows a particular hashtag. You can ask questions and reply to other's tweets or just listen in to the dialogue.
As you may know I have been on Twitter for a while now and have tweeted just over 10,000 times – but have never done a Twitter Chat. So when I was asked to join the conversation and participate on the #twitterchat for #womensleadership… I had to say yes!
Boy am I glad I did. Not only did I have a blast with the team from United Way (@PhillySJUnited) but I had a chance to answer some great questions and connect with other Twitter users real time on topics I am passionate about, especially empowering women. If you missed the 'chat' LIVE, you can always search the hashtag #womensleadership to see questions and answers. (To make it easier for those that are not on Twitter or this is over your heads, I have included highlights below.)
A quick plug for the United Way – They are hosting their 2016 Women's Leadership Initiative Gala on March 16 at the Crystal Tea Room in Philadelphia. Click here for Information and Tickets.
Twitter Chat – Highlights
.@EmLovelidge @tracydavidson @boldbrownies TD: sometimes it helps to have a yes/no filter. and everything goes through it! #womensleadership

— United Way GPSNJ (@PhillySJUnited) February 17, 2016
.@MaryGodleski TD: Agreed- you constantly need to adjust the sails. #womensleadership

— United Way GPSNJ (@PhillySJUnited) February 17, 2016
.@inspirada614 TD: Agreed but just *more* doesn't always cut it. We need to be intentional in how and where we spend our energy

— United Way GPSNJ (@PhillySJUnited) February 17, 2016
.@kpsocialmedia TD: Avoid digital distractions- you'll find another two hours in your day- for whatever feeds your soul. #womensleadership

— United Way GPSNJ (@PhillySJUnited) February 17, 2016
.@PhillySJUnited TD: Resist the urge "need to do more". Work smarter. Adjust your sails to only go in one direction. #womens'eadership

— United Way GPSNJ (@PhillySJUnited) February 17, 2016
.@PhillySJUnited TD: Always inspired and curious about the skills they developed to achieve their *unique* success. #womensleadership

— United Way GPSNJ (@PhillySJUnited) February 17, 2016
.@PhillySJUnited TD: You can really get turned around if you listen to what society expects. We have to teach our daughters that too

— United Way GPSNJ (@PhillySJUnited) February 17, 2016
@PhillySJUnited I think it's always a waste of energy to try to please others. Distractions take you away from *your* goals

— Tracy Davidson (@tracydavidson) February 17, 2016
Welcome to our first #WomensLeadership Initiative Twitter Lunchtime Chat! Our guest today is @tracydavidson with the topic: Choosing You

— United Way GPSNJ (@PhillySJUnited) February 17, 2016