Lifting Your V.O.I.C.E.: Third Installment (although we are hosting a series of retreats – you do not need to have attended the first one – ALL ARE WELCOME!)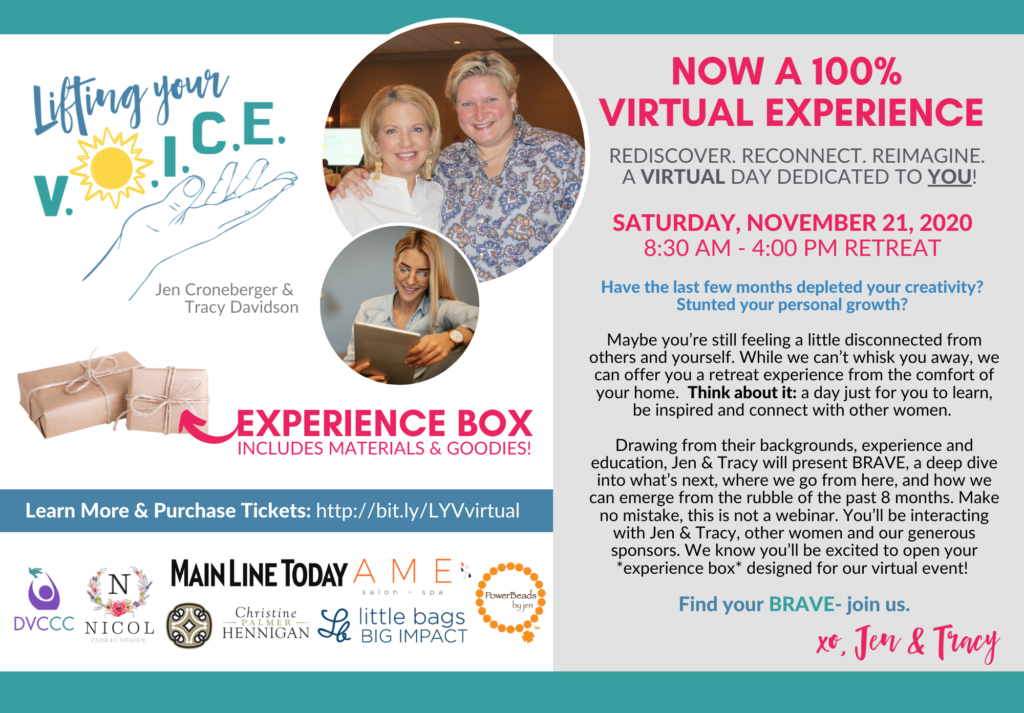 Have the last few months depleted your creativity? Stunted your personal growth? Maybe you're still feeling a little disconnected…
Lifting Your V.O.I.C.E. Women's Retreat* hosted by Jen Croneberger, Author & Motivational Speaker with special guest Tracy Davidson, NBC10 Anchor.
Have the last few months depleted your creativity? Stunted your personal growth?
Maybe you're still feeling a little disconnected, from others and yourself. While we can't whisk you away, we can offer you a retreat experience from the comfort of your home. Think about it: a day just for you to learn, be inspired and connect with other women.
Drawing from their backgrounds, experience and education, Jen & Tracy will present BRAVE, a deep dive into what's next. Where we go from here and how you can emerge from the rubble of the past 8 months. Make no mistake, this is not a webinar. You'll be interacting with Jen & Tracy, other women and our generous sponsors. We hope you'll be excited to open your *experience box* that is included.
*10% of the proceeds will be given to the Domestic Violence Center of Chester County.
WHERE: 100% Virtual via ZOOM and private website!
WHEN: Saturday, November 21, 2020 | 8:00 am to 2:45 pm
COST: $100/Virtual Ticket with Experience Box
$125/Virtual Ticket with VIP Experience Box & Virtual Toast
EXPOSURE OPPORTUNITIES:
Video intro of your business to amazing women, a full color workbook ad, mentions in the Private Facebook Group and throughout the event, emails on your behalf to attendees, event tickets, experience box and so much more! Email Kristin for more information on sponsorships with subject line "Lifting Your Voice" to hello@kpsocialmedia.com.